About Us
A STAPLE OF THE RUG INDUSTRY FOR OVER 40 YEARS
Persian Gallery New York is the premier source of antique decorative carpets, classic oriental rugs, and period European tapestries in the United States. We are renowned throughout the carpet industry for our unparalleled inventory of antique, semi-antique, and vintage rugs, and we supply carpet retailers, the interior design and decor trade, architects, and the home furnishing industry throughout the United States and abroad. We carry a vast and diverse array of carpets and tapestries, and our specialties include oversize carpets, room sizes, runners, kaleghis (gallery sizes), and tapestries.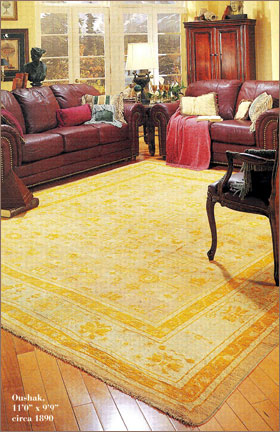 While a handful of other dealers may have inventories that rival ours in size, none can match the age, quality, authenticity, and condition of our merchandise. We are known not just for having one of the world's largest inventories of antique carpets and tapestries, but for maintaining our products in impeccable condition and cleanliness.
All the carpets and tapestries that come into stock are vetted for quality and condition, and we only bring in the best of the best merchandise. If any of our pieces has any wear or damage, as antiques often do, our expert weavers perform conservation and repair services on the premises. We make sure to keep the premises as clean and orderly as possible, avoiding the layers of dust and grime that are unfortunately commonplace in the industry. We are often told that our floors are so clean that people could eat off of them! We pride ourselves on organization and cleanliness, which means we'll find you the right piece quickly, get it where it needs to go, and it won't be covered in dust or moths when it gets there.
Persian Gallery New York has been a staple of the New York carpet industry for over forty-five years, and is owned and operated by the Hakim family. We are located in the heart of Manhattan's carpet district, and are in no way affiliated with any other 'Persian Galleries' or similarly named companies. It has been our pleasure to provide top quality carpets and tapestries for countless residential and commercial spaces over the years, and we look forward to the opportunity to find the perfect piece for you.
Our hours of operation are Mondays through Fridays from 9am - 5pm. Rug dealers, designers, and other industry professionals are encouraged to visit our showroom. Appointments are recommended. Click on the Contact Us page for more information on how to get in touch with us.
All of the items on this website are the exclusive property and copyright of Persian Gallery Co., Inc., and may not be reproduced under any circumstances.
Meet the Staff

Ike Hakim
Co-Founder / President
Ike Hakim co-founded Persian Gallery Co., Inc. in 1971 with his elder brother, Frank. Over the last 45+ years, Ike has led Persian Gallery as one of the biggest and best oriental rug dealerships in New York City, throughout our many past homes in Midtown Manhattan. From the first years on Third Avenue in the early 1970s, to the good old days at the Potamkin building in the late '70s and early '80s, to the glory days at 245 Fifth Avenue and at 102 Madison Avenue in the '80s and '90s, to our home at 36 East 31st Street since the year 2000, Ike has always been at the helm. His name commands respect in the area rug trade, and he is know for being one of the most fair, honest, and hard-working people in world of vintage and antique decorative carpets. He has personally curated one of the world's most impressive collections of period European tapestries, antique rugs, and rare textiles, and vintage pillows.
e-mail: ike@pgny.com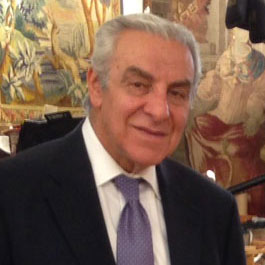 Frank Hakim
Co-Founder, Emeritus
Frank Hakim co-founded Persian Gallery Co., Inc. in 1971 with his brother, Ike. Throughout Persian Gallery's various moves and transitions over four plus decades, Frank has been a constant who has been beloved by clients, colleagues, friends, and family, with his warmth, humor, and friendliness, and with his regular offerings of tea and snacks. Frank has traveled the US and beyond on his many buying trips, working hand-in-hand with Ike to assemble the rug industry's largest and most respected collection of antique and vintage Persian, Turkish, Indian, and Chinese oriental carpets. Frank served as secretary, treasurer, and manager until the late 2000s, when he retired to spend more time with his grand-children and great-grand-children. He still comes in periodically to revisit the grand collection of rugs he was instrumental in assembling, and to make sure that his favorite clients are still getting their tea and snacks.
e-mail: frank@pgny.com
Robert Hakim
Manager
Robert Hakim is the long serving operations manager at Persian Gallery New York, and since the 1990s, has been keeping control over thousands of fine antique decorative carpets, classic oriental rugs, vintage pillows, rare textiles, and period European tapestries. The son of company co-founder, Ike Hakim, and nephew of Frank, Robert is the quiet strength behind the seamless operations at Persian Gallery, making sure that all the rugs and tapestries are inventoried, serviced, shipped, invoiced, and otherwise accounted for at all times. It's a juggling act that might make Barnum & Bailey blush, but Robert does it with ease and panache. For quick and reliable customer service, and for any questions related to inventory, shipping, pricing, or sales, Robert is the Answer Man.
e-mail: robert@pgny.com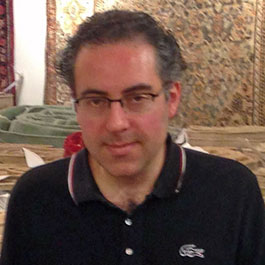 Rodney Hakim
Vice President
Rodney Hakim is the technology, advertising, photography, and sales manager at Persian Gallery New York, and since the 1990s, has been making sure that PGNY is at the forefront of technological advancements, with both their internal and online inventory management platforms. The son of company co-founder, Frank Hakim, and nephew of Ike, Rodney handles all issues related to our website, www.pgny.com, along with our advertising and marketing efforts, as well as our presence in online sales platforms, blogs, and social media. Rodney also deals with the photography of the rugs, carpets, textiles, tapestries and pillows. For any questions, comments, or suggestions about Persian Gallery's online presence and product images, contact Rodney by e-mail or phone.
e-mail: rodney@pgny.com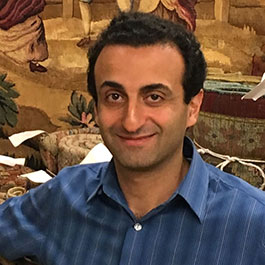 General Inquiries
info@pgny.com
Phone
(212) 683-2699
Fax
(212) 481-0885