Item # 25272 Period Antique Mythological Tapestry 13'6" H x 15'2" W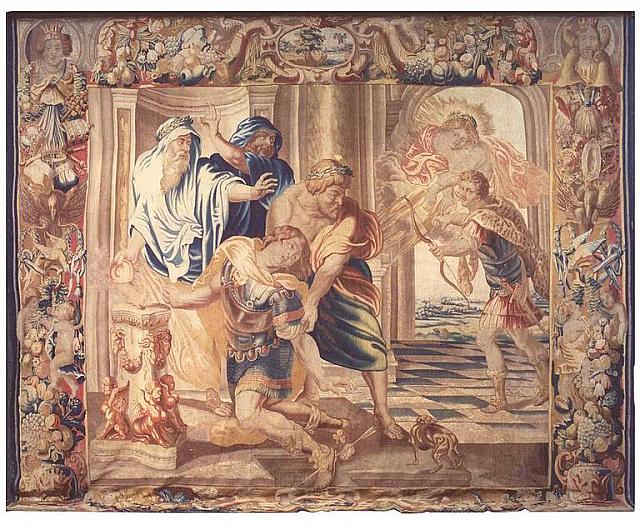 Hover on the above image to zoom
| | |
| --- | --- |
| Original Price | Buy it Now Price |
| | $400,000 |
Item Number:
25272
Name:
Mythological Tapestry
Size:
13' 6" H x 15' 2" W


(4.11m x 4.62m)

Origin:
Brussels
Style:
Size Category:
Horizontal Tapestries
Square Tapestries
Antiquity:
Circa 17th Century
Period Antique
Primary Design:
Directional
Sub-Design:
Pictorial
Design Genre
Genre Tapestry
Historical Tapestry
Mythological Tapestry
Field Color:
Border Color:
Composition:
Wool with silk inlay
Condition:
Excellent
Subject:
The Story of Achilles
Persian Gallery Notes:
Woven by Jan Raes after cartoons by Pete Paul Rubens
Description:

Antique 17th Century Brussels Achilles Tapestry by Peter Paul Rubens & Jan Raes

An amazing antique 17th century antique Brussels mythological tapestry, size 13'6" H x 15'2" W depicting the death of Achilles, after being shot in the heel with an arrow by Paris. Based on cartoons by one of the most renowned artists of the era, Peter Paul Rubens, and woven by the master weaver, Jan Raes, circa 1630. Enclosed within an elaborate border. Wool with silk inlay. Weaver's mark and Brussels town mark in lower selvedge. Excellent condition. A true, museum-quality masterpiece!
Related Items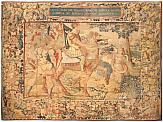 Item # 27065
13' 9" H x 15' 0" W
Circa 16th Century