Item # 25279 Period Antique Historical Tapestry 11'4" H x 12'7" W
Price Available Upon Request
Item Number:
25279
Name:
Historical Tapestry
Size:
11' 4" H x 12' 7" W


(3.45m x 3.84m)

Origin:
Brussels
Style:
Size Category:
Horizontal Tapestries
Square Tapestries
Vertical Tapestries
Antiquity:
Circa Late 16th Century
Period Antique
Primary Design:
Directional
Sub-Design:
Pictorial
Design Genre
Allegorical Tapestry
Game Park Tapestry
Genre Tapestry
Historical Tapestry
Field Color:
Border Color:
Composition:
Wool with silk inlay
Condition:
Excellent
Subject:
The Roman general Scipio with a royal convocation
Persian Gallery Notes:
From the Story of Scipio series, by Martin Reynbouts
Description:

A Brussels historical tapestry, attributed to Martin Reynbouts, late 16th century. From the Story of Scipio series, the renowned Roman general, victorious after the Punic War, with king and queen enthroned and surrounded by soldiers, people kneeling in deference on the left, an old man upholding a scripture before them, and another displaying gold and silver at their feet, within an elaborate border of Game Park scenes, birds, the Gods of Olympus, and allegorical figures. Wool with silk inlay.
Related Items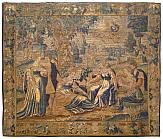 Item # 35503
11' 0" H x 12' 6" W
Circa 18th Century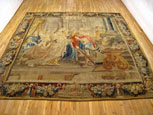 Item # 29729
11' 10" H x 12' 2" W
Circa 17th Century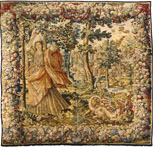 Item # 24800
12' 0" H x 13' 0" W
Circa 17th Century