Item # 26215 Period Antique Rustic Tapestry 10'6" H x 13'9" W
Price Available Upon Request
Item Number:
26215
Name:
Rustic Tapestry
Size:
10' 6" H x 13' 9" W


(3.2m x 4.19m)

Origin:
England
Style:
Size Category:
Horizontal Tapestries
Antiquity:
Circa 18th Century
Period Antique
Primary Design:
Pictorial
Sub-Design:
Directional
Design Genre
Genre Tapestry
Harvest Tapestry
Landscape Tapestry
Pastoral Tapestry
Rustic Tapestry
Field Color:
Border Color:
Composition:
Wool with silk inlay
Condition:
Excellent
Subject:
Villagers rejoicing
Persian Gallery Notes:
Woven by David Teniers II, likely in the second quarter of the 18th century
Description:

An English Baroque rustic tapestry from the second quarter of the 18th century, centrally woven, featuring a rustic scene in the manner of David Teniers II, in which several villagers make merry in front of a cottage that has a cat in one window and a monkey in another, while a woman holds a birdcage, a boy stands in courtier's regalia, and an amorous couple sits on a bench. Enclosed by a border of floral garlands, ribbon-tied fruit, lovers' knots, rows of vases, and drinking vessels. Wool with silk inlay.
Related Items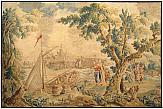 Item # 26031
10' 1" H x 13' 9" W
Circa Late 17th Century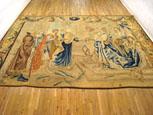 Item # 31163
10' 0" H x 14' 6" W
Circa 17th Century