Item # 27065 Period Antique Historical Tapestry 13'9" H x 15'0" W
Price Available Upon Request
Item Number:
27065
Name:
Historical Tapestry
Size:
13' 9" H x 15' 0" W


(4.19m x 4.57m)

Origin:
Brussels
Style:
Size Category:
Horizontal Tapestries
Square Tapestries
Antiquity:
Circa 16th Century
Period Antique
Primary Design:
Directional
Sub-Design:
Pictorial
Design Genre
Genre Tapestry
Historical Tapestry
Field Color:
Border Color:
Composition:
Wool with silk inlay
Condition:
Excellent
Subject:
Julius Caesar on horseback crossing the Rubicon
Persian Gallery Notes:
This tapestry has been the focus of much media attention, as it has come to light that this may be one of the lost treasures from the reign of King Henry VIII, and may have once hung at the Royal Palace at Hampton Court
Description:

A Brussels historical tapestry from the mid-16th century, depicting Julius Caesar crossing the Rubicon in defiance of the Roman senate and Pompey the Great. Caesar appears on horseback in the center, with soldiers following him from left and a woman looking up at him from right, within a sumptuous broad border woven with fruiting vines, female allegorical figures in stag and unicorn drawn carriages, exotic birds, masks and canopies, incorporating an inscribed band above, "Iacta Alea Est Transit Rvbicone Mostra Secvtvs Coelica Sic Vervens Occvpat Ariminvm," a faded red shield for the Brussels town mark in the lower left corner, the weaver's mark on the lower right side selvage. Wool with silk inlay.
Related Items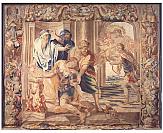 Item # 25272
13' 6" H x 15' 2" W
Circa 17th Century