Item # 27066 Period Antique Mythological Tapestry 12'0" H x 13'9" W
Price Available Upon Request
Item Number:
27066
Name:
Mythological Tapestry
Size:
12' 0" H x 13' 9" W


(3.66m x 4.19m)

Origin:
Brussels
Style:
Size Category:
Horizontal Tapestries
Square Tapestries
Antiquity:
Circa 17th century
Period Antique
Primary Design:
Directional
Sub-Design:
Pictorial
Design Genre
Allegorical Tapestry
Genre Tapestry
Historical Tapestry
Mythological Tapestry
Field Color:
Border Color:
Composition:
Wool with silk inlay
Condition:
Excellent
Subject:
The Judgment of Paris
Persian Gallery Notes:
From the workshop of Nicasius Aerts
Description:

A Brussels mythological tapestry of the Judgment of Paris, from the workshop of Nicasius Aerts, first quarter 17th century; featuring the three goddesses Hera, Athena, and Aphrodite in the center, with Paris selecting Aphrodite (aka- Venus) as the most beautiful of the three, and giving her his apple with Cupid looking on. Paris chooses Aphrodite largely because she promises to help him win the love of Helen of Troy, the most beautiful woman alive, and their subsequent affair would begin the Trojan War. Enclosed within an elaborate border of a seascape filled with a variety of fish and flanked by river gods, woodland scenes with various animals, and elaborate fruiting swags and birds in the upper border, weaver's mark on the lower right selvage, and the Brussels town mark on the lower left selvage. Wool with silk inlay.
Related Items
Item # 29733
12' 0" H x 13' 9" W
Circa 17th Century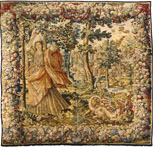 Item # 24800
12' 0" H x 13' 0" W
Circa 17th Century