Item # 27415 Period Antique Mythological Tapestry 9'6" H x 11'0" W
Price Available Upon Request
Item Number:
27415
Name:
Mythological Tapestry
Size:
9' 6" H x 11' 0" W


(2.9m x 3.35m)

Origin:
Brussels
Style:
Size Category:
Horizontal Tapestries
Square Tapestries
Antiquity:
Circa 17th Century
Period Antique
Primary Design:
Directional
Sub-Design:
Pictorial
Design Genre
Allegorical Tapestry
Genre Tapestry
Historical Tapestry
Mythological Tapestry
Field Color:
Border Color:
Composition:
Wool with silk inlay
Condition:
Excellent
Subject:
A Trojan War tapestry, featuring Menelaus receiving a chalice
Description:

A Brussels mythological tapestry from the first half of the 17th century, woven by Peter van den Berghen, depicting an interior scene from the story of the Trojan War. In the center, Menelaus receives a cup from a woman who is holding a scepter, while several courtly figures look on, and a group of vessels are displayed on a shelf to the left. There are trees in the distance, Mene laus is inscribed on the man's robe and Chire foar is inscribed on the woman's robe. Enclosed within a floral border, with the weaver's monograms BVB and PVB in the outer lower guard border. Wool with silk inlay.
Related Items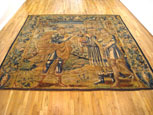 Item # 31124
10' 0" H x 10' 4" W
Circa Late 16th Century