Item # 29733 Period Antique Historical Tapestry 12'0" H x 13'9" W
Price Available Upon Request
Item Number:
29733
Name:
Historical Tapestry
Size:
12' 0" H x 13' 9" W


(3.66m x 4.19m)

Origin:
Brussels
Style:
Size Category:
Horizontal Tapestries
Square Tapestries
Antiquity:
Circa 17th Century
Period Antique
Primary Design:
Pictorial
Sub-Design:
Directional
Design Genre
Allegorical Tapestry
Genre Tapestry
Historical Tapestry
Field Color:
Border Color:
Composition:
Wool with silk inlay
Condition:
Very Good
Subject:
Julius Caesar's triumphant return from battle
Description:

A Brussels historical tapestry from the 17th century, featuring a Roman scene in which Julius Caesar sits astride his steed at center after having returned triumphantly from battle. His supporters flank him at left and right, with one sounding the horn for his return, and another holding the SPQR standard aloft. Enclosed within alternating borders of flowering elements at top and bottom, and Roman columns at left and right. Wool with silk inlay.
Related Items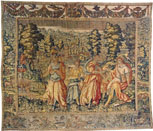 Item # 27066
12' 0" H x 13' 9" W
Circa 17th century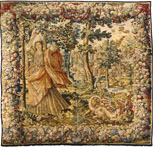 Item # 24800
12' 0" H x 13' 0" W
Circa 17th Century